Post 16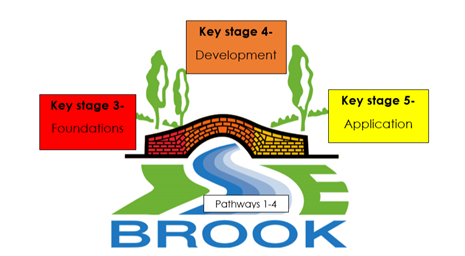 The Post 16 curriculum aims to support students in the first stage of adult life.
We do this by:
Continuing to build upon, extend and apply learnt skills in preparation for next steps and life in the adult world.
Identifying aspirational outcomes for next steps of education, employment, training and adult life, to ensure students are ready for these when they leave Isebrook post 16 provision.
Extending students experiences and knowledge of the wider world in order to broaden horizons and build on understanding of communities and society.
Implementation  
Isebrooks Post 16 provision provides a personalised curriculum for each student, which is based on the key principles of Preparation for Adulthood:
Employability
Community Inclusion
Independent Living
Health
The post 16 team, the young person, and their families (or support network) identify aspirational and realistic outcomes during their Person Centred Planning meeting around their outcomes for employment, future living arrangements, relationships and needs from the local community including the use of free time to support wellbeing.  Students are then signposted to the relevant pathway and work begins to support them to prepare them for their next steps towards adulthood.
Day-to-day learning is immersed in the community and Post 16 facilities such as The Salon, Bungalow and Rothwell Library. Through this, students are able to embed and apply their skills through real world experiences ensuring they can apply them in variety of situations this includes work experience, travel training, core cooking and home skills and access to community facilities.
Students regularly revisit personal safety and choice in varied contexts to ensure full understanding of key safety strategies.
The curriculum in Key Stage Five is organised very differently dependent on the students individual outcomes and Pathway. Some students complete extended work experience placements or supported Internships meaning they are only on-site for part of the school week.
Functional Maths, English, ICT and RE are embedded throughout the entire curriculum offer and students have the opportunity to achieve additional awards, such as the Duke of Edinburgh Award and Princes Trust awards that have been identified as having employer currency.  Awards and Accreditation are offered to meet the identified outcomes for adulthood therefore, our curriculum is not accreditation driven.
Isebrooks Post 16 provision has a wealth of resources, which are used by students on a daily basis, such as:
The bungalow

An indoor and outdoor home facility to learn independent home and D.I.Y. skills

The Salon

Our in-house hair salon, which provides both work experience and a therapeutic need.

Rothwell library

A community library run in partnership with The Friends of Rothwell Library. This facility is overseen by our experienced team of Job Coaches who support our students to access meaningful work experience and build on employability skills within the library or within our very own print studio.
Impact  
All students have the relevant experiences, and have gained the appropriate skill-set, knowledge and, where appropriate, qualifications to lead to a safe, happy and fulfilled future in their work, social and personal lives.