Arbor Parent Portal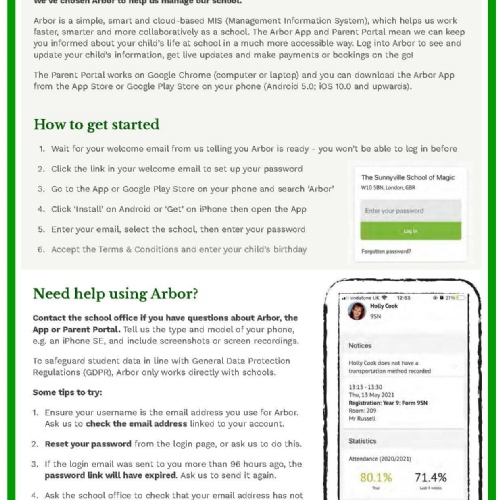 We will be using the Arbor Parent Portal & App and going live very soon. We will keep you updated. Please find information leaflet below. We are currently not live.
Logging In Once we are Live
Never logged in before? Visit this article to see how to get logged in: Getting started - Log into Parent Portal and the Arbor App
Having trouble logging in? Work through these troubleshooting tips with your school: Why can't parents log in?
Your Homepage Dashboard
The dashboard is the first screen that you will see. This gives a quick glance of the student's daily timetable, behaviour points, meals, notices, current attendance and progress.
You can return to this page at any time by clicking on the school's logo or choosing Dashboard from any menu.
The Statistics section shows information about the student's attendance, behaviour and progress statistics for the current term.
Guardian consultations - The Guardian Consultations section allows guardians to book time for Parents Evening meetings by selecting one of the available slots as per the School's setup.
Assignments - This section shows any homework or coursework assignments that are due, overdue or marked.
And lots more.....